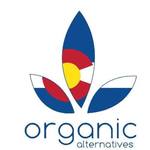 FEATURED
Organic Alternatives
Recreational Dispensaries / Fort Collins   (121,054 hits)
Reviews
Feeling ripped off
1 personthought this review was helpful!
Almost 3 times the price of identical strains in Denver, and almost twice the price of other FC dispensaries. Bud tender was not pleasant. What a mistake stopping there.
Good place
prices could be better but they have golden goat so there is that will definitely go back soon!
Concentrate Heaven
Love the huge selection of waxes, shatter and oils. Thanks guys keep it coming!
try their Durban Poison!
it's top notch, what more can I say? the place is super clean, has an upscale feel and friendly budtenders willing to answer all of your questions.
I just have one request; well two: Headband & OG Kush on the recreational side, please!
Official Dispensary Response
Thank you so much for the kind review! We always appreciate seeing these. We do have Headband available on the recreational side (which is an amazing strain) and we'll certainly see what we can do about getting OG Kush going!
Thanks again!
Excellent
Great atmosphere, very helpful budtender, recommended some bud for me (fantastic Flo) and some light, one dose edibles for some friends. A very good experience, I'll be back
Official Dispensary Response
We are happy to hear that you enjoyed your visit and glad that you liked the product! We'll see you next time you come in and be sure to check out our new V.I.P program to take advantage of the special pricing and all of the daily deals!
Not a fun visit.
1 personthought this review was helpful!
Official Dispensary Response
Thank you for your review. Sorry to hear your visit was not enjoyable. Is there anything specific we could improve on? Any feedback would be appreciate and hopefully we can make it a better experience for everyone.
Two thumbs up!!
From the moment I walked in I was impressed. I used to live in Los Angeles and had a medical prescription there, so I have been to a number of shops out west. But this place was top-notch. It really did have a feel almost like walking into a spa.
The staff that I interacted with were all wonderful and welcoming (I wish I could remember their names to give them extra props... sorry I can't remember!).
This place assigns you a personal "barista" that focuses only on answering your questions and helping you -- one customer at a time per staff "barista", so you truly get that personal help -- they are only focused on you! Everything about my experience was positive and enjoyable. I thoroughly love all of the product I got, but it's impossible for me to not feel like it was on the pricey side though. Yet at the same time I'm still a satisfied customer and will absolutely go back. (Keep in mind I'm comparing it to Los Angeles prices, and not other Colorado prices as I'm new to the area and this is the only Colorado one I've been to yet.)
(**Note - parking can be a bit crazy, so just be prepared for that...)
Official Dispensary Response
Thank you for the great review, we always love seeing these! We have been doing several different daily specials that you can take advantage of some great deals on special strains of the day, buy one get one 1/2 off's, and 20-50% off of certain items! Also, keep an eye out for our new V.I.P program that we will be unrolling shortly that will give you access to even better prices on our products! Thanks again!
Best place in town!!
Great atmosphere, awesome product and employees! I wont shop anywhere else!
Official Dispensary Response
We appreciate your review! Thank you so much and we look forward to seeing you again!
aw yeahhh
1 personthought this review was helpful!
awesome vibe in that place. great art on the walls and cool people helpin you out. it was very clean and uncluttered and even in a pretty cool part of town. keep up the good work! ps. try the Jesus OG ;)
Official Dispensary Response
Thanks for the review, we're glad that you enjoyed your experience!
Not OA employed, but I luv macncheeze!! :-)
2 peoplethought this review was helpful!
ORGANIC ALTERNATIVES is my first choice for quality medicine, service, and prices for buds that are made completely organic and natural without harsh chemicals. I suffer from an auto immune disease and having organic marijuana right here in our town is a blessing. The atmosphere is very inviting, friendly and VERY organized. This shop has an extraordinary style of serving appreciated customers. Compared to other shops, all throughout the state, OA has a distinct difference and Outstanding service. Only negs are parking (walk- we live in Colorado), long lines(bc it's popular), & I've found only one seed in the first stages of business (I'm not picky like some «i started growing it anyways since I have med card» & nothing is perfect always- just be happy it's legal). The tenders are knowledgeable, friendly, organized, and you can tell they love their employer. Too some it feels like a docs office waiting room (but chill and upscale) & to others it feels like a lounge or saloon in the back ( it's a nice display but you don't get much privacy if you are trying to be discreet). I'm a mother, wife, college instructor, busines owner, and Fort Collins citizen that appreciates this shop for bringing in a great business to town. I feel very comfortable learning about all the different strands from this shop and they are very professional for my idea of caliber service.