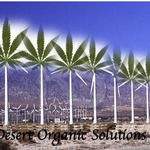 FEATURED
DESERT ORGANIC SOLUTIONS
Medical Dispensaries / Palm Springs   (192,015 hits)
Reviews
Was this the place to be on 4/20 or what???
OG Raskal's Fire Kush (23.6%thc) for $59 a quarter, The Cheeba Chew girls were there with their FREE SAMPLES and to top off all their regular gear they gave us a free top shelf
number to boot...now you just can't beat that kind of deal.
When you add in cool vibe the place has, it's no wonder there was 15 people ahead of me
when they opened the doors...just love this outfit!!!
jonnynu
Once again Gary and his staff raise the bar!
Now I admit, I haven't tried it yet, but where on earth are you going to find a strain that comes in at 23.6%THC for $59 a quarter oz...(buy an 1/8th and get one free). This place ALWAYS goes out of it's way to offer us the best deals out there...bar none!
OG Fire no lesss ...at 23.6%THC...you're gonna have to beat me to the door!!
Best place out there...and we have it here in the desert...THANKS GARY!
You have heart!
Jonnynu
Friendly staff and great product
1 personthought this review was helpful!
I was in Palm Springs for the day visiting my sister and got my mmj card renewal done from a local Doctor there. I honestly hadn't heard much about Desert Organic and wasn't to excited. When I walked in though I got excited. The people working there were cool, nice and knowledgable. If they didn't know something they said they didn't know. I bought their Og Diesel shatter and I just got it home and tried it and it really is awesome. I am in Los Angeles and we have some good shatter here, It competes with the best shatter I have had and it only cost $35 a Gram. I also picked up some of the presidential og which is pure fire. I definetly recommend checking desert organic out they are the real deal.
Favorite PS. dispensary
1 personthought this review was helpful!
Open for many years consisitently high grade strains always moist with fine selection
Best is CC./debit cards billed as "Organic foods" and especially BGO Buy on get one
Great concept of savings Thanks....oh cute staff ****
Awesome place
1 personthought this review was helpful!
Bud is always fantastic and staff is just as good. I picked up some xxx og as well as the ghost og. The flowers' aromatics and cure were highly indicative of an experienced grower. I'm old school and like to smoke joints, and these strains burned clean and did not disappoint. The xxx og was especially potent. They also have a nice selection of wax and other great concentrates the Tahoe Co2 wax was a mind blower. The service was great and even though the place was packed I was in and out in no time as always.
Professional, mellow, great selection
This is my go-to shop where I immediately feel at home and easily get the medicine I need with no stress and no hassles.
Visiting for the first time when I received my first medical card as a 50 year-old professional gentlemen with chronic back pain, I was immediately put at ease by their professionalism delivered with a laid back, easy-going, mellow vibe. As pretty much a new-be to personal marijuana use and trying it for the first time as a medical patient, the staff was very helpful, knowledgeable, and willing to educate and offer excellent advice on various medicinal product options.
I've tried a number of other dispensaries as I became more comfortable with medicinal marijuana use over the last year, but I quickly found myself always returning as a regular to Desert Organic.
They have a large selection of products of the utmost medicinal quality. Most are labeled with medical and nutritional information. I particularly like their XXX Galactic Brownies which really helped my back pain.
You may find some prices lower at other facilities with less selection and less quality-product, but with the their huge selection of flower, edibles, beverages, electronic pens and cartridges, and with their staff and the great atmosphere I really have no reason to go anywhere else.
horrrrrrible place
1 personthought this review was helpful!
so I get this email of an $89 ounce special of Head band. this was a shake special..... now let it be known that obviously knowing this ounce was to only cost $89 I didn't expect it to be some danky fire buds but.......The keyword is SHAKE Special.... shake NOT marijuana dust and silly me to initially worry there might me too many stems in the ounce I'm so offended that they would even remotely begin to think giving me this is in any way shape or form okay. this was not smokeable at all, not in a blunt not in a joint not in a bowl. i couldnt even make butter with this garbage. this was a sorry disgusting excuse for "meds" and how unprofessional and shitty of you guys for not even attempting to satisfy an unhappy patient. will never ever ever come back ... If I could give you negative stars I would.
Official Dispensary Response
Dear Mrsdabss, sorry you were unhappy with the shake. We did try to exchange it for you in attempt to make you whole but you said you didn't have time to wait and ran out in a hurry. We have a lot of patients that make butter using our shake if you need help in learning the process of turning it into some bomb butter please give us a call at the shop and we will hook it up for you. BTW the Shake was lab tested at 16.5% and we have patients that come in every week and rave about it. They roll it, smoke it put it in pipes, Bongs and Vaporizers. all the time It's really a great deal for $89
BOGO!
I love the Bogo's! I have been impressed with the quality of the stains offered and the weekly variety. Really enjoyed the Holy Grail!
THE SFV KUSH IS EXCELLENT SMOKE!
I decided when I visited this place a few days ago to take a close look at the higher end stuff and thought I'd splurge a little and grab an 1/8th of the SFV Kush...most good kushes knock me out fairly quickly, but I was looking to treat myself to something special...and special it is...grabbed my magnifing glass when I got home to take a close look and the buds were caked...the smoke it really really smooth..not lung explosions...no harsh kush burns on the back of my throat...just very very nice kush flavors dancing on my tongue...but best was to come...this stuff will really get you ripped...very very enjoyable..next time you're in give this strain a try...you'll be glad you did!
Fire OG Bogo special. Premium Medication
Happy Veterans Day,
Stopped in and picked up the Fire OG Bobo deal at $55 (so you get 7 oz). Flower is excellent. Also picked up 2 vape pen cartridges (Girl scout cookies) and (Durbin Poison)
and because it is Veterans day my husband as a member of this collective also received a TOP SHELF FREE joint....
If you have not been to this collective before you should pop on by. Excellent medication. Flower, Hash, Wax, So many Edibles to choose from for anyones fancy.
I love my vape pen and there are many strains to choose from.
Thank you again for being here for Patients like myself...
Happy Veterans Day.
Lance * Gary