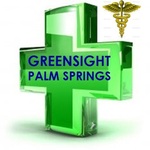 FEATURED
GREENSIGHT 760-622-7386 PALM SPRINGS *
Medical Doctors / Palm Springs (21,634 hits)
* MON-TUES-WEDS-TH-F-SAT 12-6 * (last pt 5:45 pm please)
* Closed for the following holidays: New Year's Day, Fourth of July, Thanksgiving Day and XMAS!
* 60 NEW * / 40 RENEWAL (within 30 days expiration - must bring a verifiable copy) from ANY OFFICE *
* Recommendations good for one year - no "bait and switch"
* ALL RENEWALS MUST BE WITHIN 30 DAYS OF EXPIRATION (from ANY office) *
* ALL PATIENTS REQUIRE A VALID CALIF DRIVERS LICENSE OR CALIFORNIA STATE ISSUED ID and CLEAR MEDICAL REASON FOR USE-DOCUMENTATION IS REQUIRED*
* GREENSIGHT MEDICAL - 4693 E. RAMON ROAD, PALM SPRINGS, CA 92264 *
* 1 BLOCK WEST OF GENE AUTRY TRAIL * RAMON x WILLIAMS * WE ARE DIRECTLY SOUTH OF THE PALM SPRINGS AIRPORT *
* TEXT "PS INFO" TO 760-622-7386 TO RECEIVE INFO & MAP.  *
* ALL BOARD CERTIFIED, FELLOWSHIP TRAINED PHYSICIANS. * PHYSICIANS-OWNED & MANAGED * NORML & AMERICANS FOR SAFE ACCESS MEMBERS * EXPERIENCED, KNOWLEDGEABLE, PROFESSIONAL CARING STAFF * PRICE MATCH GUARANTEE FOR ANY MED EVAL CENTER IN THE COACHELLA VALLEY (MUST BE VERIFIABLE BY PHONE OR AD)*
* 60 NEW * / 40 RENEWAL (within 30 days expiration - must bring a verifiable copy) from ANY OFFICE *
* Recommendations good for one year - no "bait and switch"
* ALL RENEWALS MUST BE WITHIN 30 DAYS OF EXPIRATION (from ANY office) *
***************************************************************************************************************************************
* CLOSE TO DISPENSARIES * FAST, FRIENDLY & CONVENIENT * REGULAR HOURS MON-TUE-WEDS-THURS-FRI-SAT 12 - 6 * WALKINS ONLY
* ALL PATIENTS REQUIRE A VALID CALIF DRIVERS LICENSE OR CALIFORNIA STATE ISSUED ID*
* CONTACT DMV for info on REQUIREMENTS FOR STATE ID OR CALIF DRIVERS LIC - 800-777-0133 *
**************************************************************************************************************************************
* MEDICAL DOCUMENTATION IS NEEDED TO VERIFY YOUR MEDICAL CONDITION - ANY ONE OF THE FOLLOWING ARE ACCEPTABLE FORMS OF DOCUMENTATION: RX FROM PRIMARY CARE DOCTOR / RX FROM SPECIALIST / LETTER FROM DR. / XRAY FILM / XRAY REPORT / MRI FILM / MRI REPORT / CT SCAN FILM / CT SCAN REPORT / SURGICAL SCARS, CLINICAL SIGNS, OR OTHER CLEAR PHYSICAL EVIDENCE AS DETERMINED BY EVALUATION / ORIGINAL RX BOTTLE / MEDICAL RECORDS FROM HOSPITAL OR OFFICE / DISABILITY PAPERS / EMERGENCY ROOM REPORT / EMERGENCY ROOM DISCHARGE SUMMARY / VETERANS ID OR OTHER PROOF OF MILITARY SERVICE OR COMBAT *
* FOR ALL INDIVIDUALS UNDER 21 YEARS OF AGE LIVING WITH OR SUPPORTED BY FAMILY, THE HEAD OF THE HOUSEHOLD MUST APPROVE THE USE OF MARIJUANA. * WE ENCOURAGE FAMILY MEMBERS TO COME IN AND DISCUSS IF THERE ARE ANY QUESTIONS.
***************************************************************************************************************************************
* ANY QUESTIONS, PLEASE FEEL FREE TO CALL OR TEXT US AT 760-622-7386 *
* WE DO NOT ANSWER CALLS FROM BLOCKED PHONE NUMBERS *
***************************************************************************************************************************************
* 60 NEW * / 40 RENEWAL (within 30 days expiration - must bring a verifiable copy) from ANY OFFICE *
* Recommendations good for one year - no "bait and switch"
* ALL RENEWALS MUST BE WITHIN 30 DAYS OF EXPIRATION (from ANY office) *
* LOWEST PRICE IN COACHELLA VALLEY *
Reviews
Best price in town!
2 people thought this review was helpful!
Very conveniently located just off Ramon across from the airport. Even though there was only one patient when I arrived, the parking lot was full (probably because people leaving were then going across the street to get their meds). The inside of the clinic was clean, comfortable, and bright. The staff was very friendly and professional (and kept helping me find my cell since I kept losing it!). They were willing to educate me as a first time patient (it wasn't necessary); and I was given a handout with good to know information. I was in and out in less than 30 minutes. Across the street is a great dispensary!
Never thought I would get my card but I did :)
2 people thought this review was helpful!
I am a truly happy patient now that I am a legal. Can't wait to go find my place to get medicine now, any recommendations?
So Glad They Take Renewals From Other Doctors :)
2 people thought this review was helpful!
I was having a huge troubling time to find a place that would give me the renewal price for my old doctors and I was close to giving up....but then I found the place I will call my home for getting my recommendation and they are good as soon as you leave my last doctor I had to wait a few days until I could use it.
Will not consider any other office because they showed me what a true compassionate office is like
Was Happily Satisfied
1 person thought this review was helpful!
Went in to renew after it being a few years and man I'm glad I choose the right doctors office this time...makes me happy to a medical patient :)
very convenient
1 person thought this review was helpful!
just moved to the area - well about 90 minutes away.. glad that this office is here so I can get medicines all in one trip and not waste gas.. very professional setting - LA pricing in the valley - very cool
affordable and close
2 people thought this review was helpful!
I was going to grab meds at the dispensary off ramon road but was turned away because they noticed my recommendation had expired.I totally let it slip my mind. I was instantly stressed and anxious but the guy then pointed me ACROSS THE STREET and i was able to walk right in , and walk out certified! i appreciate the proximity to the dispnesaries and also the 40 renewal cost, even though i had come from a doctor up north thanks again to the cheerful staff! oh, and they offer a renewal call or text as a reminder ;)
got CERTIFIED!
1 person thought this review was helpful!
I called ahead to make an appointment and was told they pretty much do walk ins. I appreciated that because my schedule is so crazy that going in on my own time sounded great. Once I arrived at the location, I couldn't believe my eyes. Besides being HUGE, it was also very clean and organized with educational material throughout as well as on the television in the lobby. Service was prompt and I walked out with my certification and medical marijuana identification card and on to a dispensary! i was so intimidated at first but they eased those worries.
wow!
1 person thought this review was helpful!
This is really the best place to get your medical card.... the staff is friendly and the doctor extremely knowledgeable...not to mention i was in and out in 25 min....see u guys next year!! :)
Professional, quick and easy
2 people thought this review was helpful!
Friendly and professional staff. Really good location, next to the best dispensaries in the area!
Best place in town!
4 people thought this review was helpful!
Came in for my yearly renewal. I am new to the area coming from la and was surprised on how professional they are.
Was in and out within 5 minutes. Prices are low and customer service was great. Definitely the place to go for all your recommendation needs.
I will fersure be back next year!