This product is currently unavailable in your area.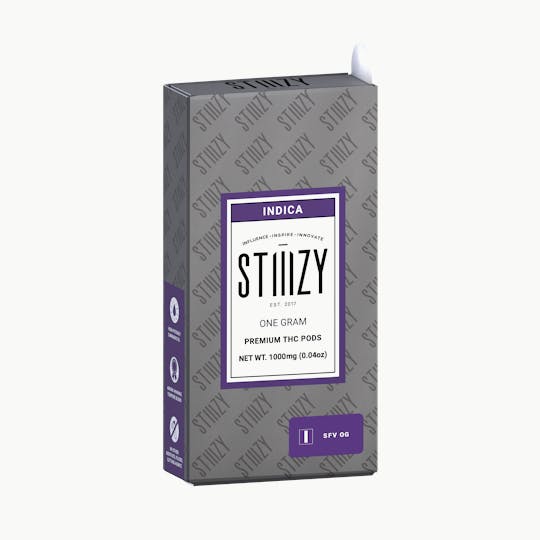 SFV OG - PREMIUM THC POD 1G - IL
Users report feeling
relaxed
.
---
Extracted from a variety of natural flora, STIIIZY's botanically derived terpenes offer balanced aroma and taste to deliver a consistent experience every time. Our premium quality concentrates uphold a high level of purity, setting the industry standard to influence and inspire through innovative methods.
SFV OG
TASTE: Earthy, Spicy, Pine
FEELING: Peaceful, Euphoric, Clear
DESCRIPTION: A pure Indica strain that starts in the back of the head and slowly makes its way to the rest of the body.
Flavors
Effects & flavors are reported by users on our site. This is for informational purposes only and not intended as medical advice. Please consult your physician before changing any medical treatment. STIIIZY is known as an innovative, award-winning, California-based cannabis brand. Founded in 2017 as a pioneering vape company, STIIIZY evolved into so much more. Today, STIIIZY has become one of the world's most treasured cannabis brands with its class defining retail stores and amazing cannabis products Always innovating, always inspiring, always influencing: that's us. Let's take it to new heights. #STAYSTIIIZY
PODS
- OG: Extracted from a variety of natural flora, STIIIZY's botanically derived terpenes offer balanced aroma and taste to deliver a consistent experience every time. Our premium quality concentrates uphold a high level of purity, setting the industry standard to influence and inspire through innovative methods.
- CANNABIS DERIVED TEPENES: Extracted directly from local single-sourced cannabis plants, STIIIZY's Cannabis Derived Terpenes preserve the natural terpene profile of each flower strain to deliver optimum synergy in both flavor and potency.
- LIVE RESIN: Extracted directly from freshly harvested, flash-frozen cannabis plants, STIIIZY's Live Resin preserves the authentic taste profile and delivers a full spectrum cannabis extract. Introduced seasonally, in small batches, this craft cannabis provides a synergy between cannabinoids and terpenes for the ultimate entourage effect.
- SOLVENTLESS: STIIIZY Solventless Live Rosin Pods have been extracted using the finest cannabis concentrate. Extracted using only ice, water, heat, and pressure, every pod is purified for maximum potency and super tasteful flavor profiles. Combining our revolutionary delivery method and keeping the true nature of the plant consistent and pure, STIIIZY Solventless Live Rosin Pods give you the high quality, terpene-rich cannabis experience you've been looking for.
- ALL IN ONE: Our premium quality concentrates combine high level THC oil with bold flavors in a portable and rechargeable package. Perfect for when you're on the go, our classic formula offers consistent levels of potency and purity. STIIIZY sets the industry standard, influencing and inspiring through innovative methods.
EXTRACTS
- CURATED LIVE RESIN: Our Curated Live Resin captures the true essence of the plant in extract form. The whole plant is cut and harvested then immediately flash frozen, preserving the full spectrum of cannabinoids and flavor. This process delivers the pinnacle of potency, flavor and consistency.
- LIVE ROSIN BADDER: STIIIZY'S hand-crafted solventless line of extracts starts with premium flower. We combine ice, water, and flower then gently agitate, separating the ripe trichomes. Once separated, the delicate trichomes are immediately frozen then dried. Then we sieve and sift, keeping everything cold throughout the process to ensure maximum quality and taste. At no point do we use any type of chemicals during our extraction process.
- LIVE ROSIN JAM: Beginning with fresh frozen specific genetics and only the frostiest hand-picked tops, our fine-tuned solventless extraction process produces clean, high-quality concentrate that represents the pure full flavor and sensation of each specific cannabis strain. Our Live Rosin Jam is cured for just the right time and temperature, ensuring consistent quality to bring out the natural terpene and flavor profile.
- LIVE RESIN DIAMONDS: Our Live Resin Diamonds are curated specifically for usability, you will find right-sized diamond crystals suspended in our terpene packed sauce. Some Cannabis strains lend themselves particularly well to diamond creation, like they were intended for it. We let Mother Nature tell us which strains and batches are best suited for our Live Resin Diamonds.
EDIBLES
- 90MG TRIANGLES: Enjoy every bite with STIIIZY Edibles, our new line of fast-acting Nano-molecular-Enhanced Live Resin gummies. Each bag contains 90 mg of THC — three 30mg triangles, which each are segmented into three 10mg doses. Available in NV only.
- 100MG: Introducing our new line of STIIIZY edibles. Your favorite live resin infused gummies are formulated with fast-acting nanotechnology in 10 mg pieces. Enjoy the blend of both delicious and mouth watering flavors in every bite.
- CBN: Looking for a good night's sleep? Now introducing STIIIZY CBN gummies! These delectable edibles harness the relaxing powers of cannabinol (CBN) packed in a delicious and mouth watering gummy to deliver a long lasting and peaceful high, helping you unwind and relax into bliss. Now offering a 2:1 THC to CBN combination, STIIIZY CBN gummies are formulated and notably recognized to help combat restlessness and relieve inflammation, nausea, and stress
STIIIZY RETAILS:
CA: 909 San Bernardino | Alameda | Barstow | Benicia | Costa Mesa | Davis | DTLA | Jurupa Valley | Marina | Mission | Moreno Valley | Pacheco | Pacoima | Palm Desert | Pomona | Santa Rosa | San Bernardino | SOMA | Suisun City | Union Square | Vista | Western | Wildomar | Wilmington
MI: Battle Creek | Ferndale | Kalamazoo
Shop STIIIZY
SFV OG
SFV OG - or San Fernando Valley OG - began as a phenotype of OG Kush. A grower named Swerve at Cali Connection Farms in Southern California's San Fernando Valley bred it with an Afghani from Homegrown Fantaseeds. The resulting strain takes its initials from its parent strain, as well as the abbreviated location of its seed bank.
Breeders created the strain after selecting OG Kush for its earthy, lemony smell and sedating properties, which are the result of high levels of myrcene, limonene and caryophyllene.
The strain took 3rd place in the Indica category at the High Times Cannabis Cup in Amsterdam in 2012, and 1st place at the Denver Cannabis Cup that same year.
---
Have a question?
We're here to help.