This product is currently unavailable in your area.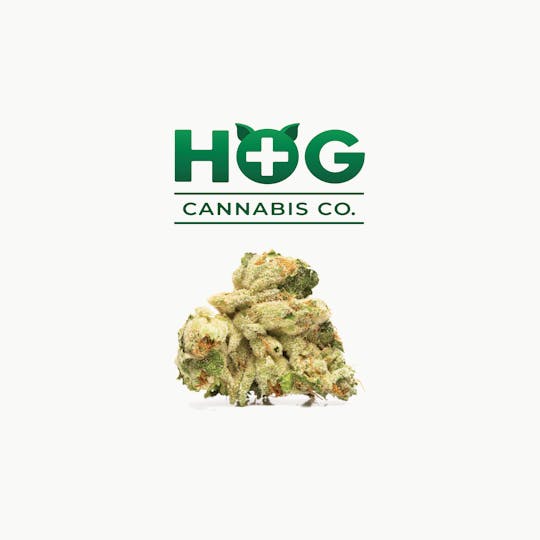 Users report feeling
relaxed
with this
high potency
product.
---
Lineage: GG4 x Do-Si-Dos
Breeder: Archive Seed Bank
Duct Tape buds are made of purple, lime-green, and olive-green leaves that blend evenly together. Fiery-orange pistils are generously littered about. Golden trichomes give the illusion of the buds having moss growing on them and add patches of yellow. Combusting this strain brings to life some pungent cheese flavors in the mix of gas, pine, and YES more duct tape! Duct Tape experience has been described as an initial cerebral rush followed by smooth crescendo of energy. As the terpenes work their magic on the muscles and nerves of the body, users are reportedly moving about lighter and more freely. 
Flavors
Effects & flavors are reported by users on our site. This is for informational purposes only and not intended as medical advice. Please consult your physician before changing any medical treatment.

HOG Cannabis Co.
855 Favorites
HOG Cannabis Company cultivates small batch, premium medical and adult use cannabis strains. Our focus is cultivating clean high quality cannabis. Our cultivation team is stacked with legacy farmers with over 50 years of cannabis cultivation experience. HOG Cannabis Co. is veteran owned and locally owned, and located in licensed provisioning centers and dispos.
Our Genetics
HOG offers exclusive genetics that have been selected in house by our cultivation team through pheno hunts.
Shop HOG Cannabis Co.
Duct Tape
Archive Seed Bank crossed Original Glue (Gorilla Glue #4) with Do-Si-Dos to produce the indica-dominant Duct Tape strain. Much like GG4, it has a loud, complex terpene profile with nutty, piney, gassy, and somewhat chocolatey aromas.
By adding Do-Si-Dos to GG4, the breeders were able to create an extremely flavorful, extremely potent strain with full-bodied effects. Duct Tape's THC percentage often surpasses 20%.
---
Have a question?
We're here to help.