This product is currently unavailable in your area.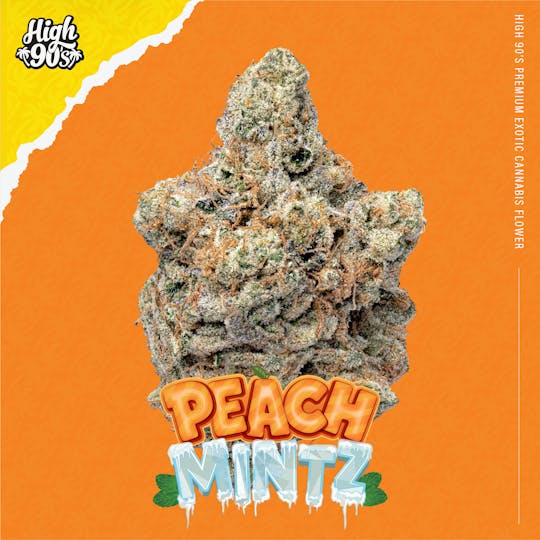 High 90s : Peach Mintz 3.5g Flower
---
Indica 
Lineage: Kush Mintz x White Fire OG 
Top Terpenes: Caryophyllene, Myrcene, Limonene
Flavor & Aroma: Pungent, Earthy, Mint
Effects: Uplifting, Relaxed
Peach Mintz, an indica strain with White Fire OG (bred by the legendary OG Raskal Genetics) and Kush Mintz as its parents. This strain has a complex flavor profile that tastes like mint with subtle sweet and pungent earthy undertones. Those who enjoy Peach Mintz say this strain may help with social and creative activities without leaving you drowsy.

Born out of the love for the '90s, High 90's is a licensed cannabis brand that strives to deliver consistent cannabis products to all consumers. Founded in 2019, we combined our passion for cannabis and our love for California culture to introduce The Sweetest High with our introductory product line of wax infused pre-rolls. We've now expanded into many more product categories including flower, vapes and extracts.
A brand truly for anyone; High 90's strives to bridge the gap between experienced connoisseurs and those just getting introduced to cannabis.
Every product we introduce is hand selected and tested by us before it gets to you. We only release what we love and truly believe in. If we won't smoke it, then you don't smoke it.
Shop HIGH 90s
---
Have a question?
We're here to help.