What Are YOU Smoking On Right Now?
Everything:) Happy Holidays Everyone!
Merry Christmas everybody!!!
gdp, hollands hope, russian promise wakin n bakin gittin ready for my 420 at cannabis cup! Stay lifted!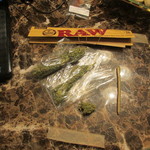 Smoking on some Tahoe og and pen vaping some gc wax yeaaaa buddy happy 420
HAPPY 420 EVERYBODY! Starting off with two joints this morning, Destroyer and then a Meltdown. Stay High! :)
MangoDream DANK @s Fudge, BUT not the best for nitime.... Could be worse
Platinum Cookies hittn back.... flight 420 is about 2 touchdown in the land of milk and cookies.... Happy 420... Ho Ho Ho... B-)
Smokin on dat Marz OG, an some OG butter wax out of my trippy
Disneyland Disneyland Disneyland
The Plat. Cookies... Just put me on flight 420... Putting my seat back now... I do believe we have lift off baby... :)
Sour D!! Review of it up on the noobtoob now! youtube . com/cannabisreview!
SOur Og Kush And White Widow..!
#Stoned#GoodNight#HAppy420
Gorilla glue got me stuck :) feeling well medicated :)
HAPPY 4/20 DENVER Smoking on some Dj Short Flo, Kong, & some Cantaloupe Indica! Have a safe rest of your weekend guys!
Bubba hash ,pink Cadillac wax and skywalker og of herb 3 layer joint!~~~~~~~
Kickin off my 4/20 Fucking Amazing OG & King Louie Happy 4/20 my fellow pot heads....may roll up some Banana Kush for fun of it
My 4/20 meds it's just me so this is kool 1/8 of 4diffrent budz a gram of blue light shatter and ,5 of true og krumble
Bout to kick off 420 with a shake-vape at midnight.