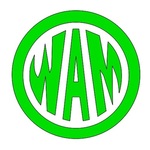 FEATURED
Reviews
My Experience...
My last visit forced me into creating an account and leaving a review, which isn't something I ever feel the need to do. First off, my budtender met my needs with and knew exactly what to recommend and was very considerate. I also left with one of the medicated Hippie Stix which was by far the best $5 donation i've ever made. Thanks WAM!
Best Med Shop!
This is by far my favorite!!! The staff is so nice and knowledgeable! They have a great variety and always are stocked! :)
great medicine
great shop great staff great medicine
Great Service at WAM
WAM is a lovely little dispensary that offers all forms of high quality medication at a fair price. The staff is polite and helpful, and makes you feel at home. High quality meds - great price. A+
super cool
awesome service. love the staff. top quality at an affordable price
super cool
awesome service. love the staff. top quality at an affordable price
My Home Base........
1 personthought this review was helpful!
The staff is very well versed on the match-ups between pain versus strain and an added plus is that they are friendly and willing to take the time necessary to answer any and all questions that you might have. To me, that's big plus, as I feel we are still on the early stages of medical marijuana and while I can appreciate the casual user, Bob Marley and tie-dye shirts, I'm passed that stage in my life and now rely upon medical marijuana as an alternative to more dangerous hydrocodone, etc.
Since coming here and trying a few suggested strains, I'm very happy to say that I can now get in bed, sleep blissfully with no pain whatsoever, and yet wake up refreshed and enthusiastic about the day.
Words can not begin to express the gratitude I feel for citizens of Washington State for having worked hard to pass laws in our favour that allow the fine folks at this dispensary to do their part in getting the much needed medicine to us who have lived with gnawing pain for far too long. Hats off to WAM!
No Thanks
1 personthought this review was helpful!
Havent been here in awhile, usually go up the street but was in a hurry so I stopped into Woodinville Alternative Medicine. Upon enterining I was greeted by a friendly receptionist and was verified and let back into the room. I have back spasms and needed a Hybrid leaning more towards the indica side, the very friendly women suggested "Dutch Treat" and assured me it "Dank / Fire". This is a collective for medicine, using words like "Dank" and "Fire" do not help me understand the ailments the strain is good for. I decided to trust her judgement and went home to find out on Leafly that Dutch Treat is a Sativa and is not good for muscle spasms. Woodinville Alternative Medicine used to be a pretty decent place, now it seems they have hired staff based on looks and not knowledge of the medicine. I will not be returning to this collective as I was charged $1 extra per gram for "Tax" and they have absolutly 0 knowledge on any of the strains on there shelf, also that "Stoner Holiday" raffle is stupid, you shouldnt ask a patient to purchase a ticket with that name, I am not a stoner im a guy who is using cannabis for theraputic relief.
Awesome stuff!
1 personthought this review was helpful!
ive been a patient for almost 2 years now, and i have not personally went into this spot. howeveri have tryed some of there medicine in the past and was very impressed! definetly have to try this spot of your in the area! great bud and great staff!!!!!