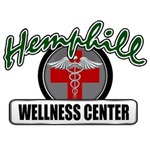 FEATURED
Hemphill Wellness Center
Medical Dispensaries / Flint   (75,348 hits)
Reviews
5 STAR ESTABLISHMENT
1 personthought this review was helpful!
The staff, the wheel, the deals- makes this place special. I have a hard time going to other places because of the mold or whatever that makes me sneeze and my allergies act up... but that never happens here. I LOVE HOW THEY TEST EVERYTHING. I have been to many dispensaries but this is the best one hands down. MEDIBLES ARE YUMMY TOO. The staff is professional, kind and a joy to be around. I feel the need to defend them now though- I have never seen nor heard of this place having bugs or mold they get everything tested.
Bugs bugs bugs
1 personthought this review was helpful!
Iv been going there for years and it use to be a cool place ran by a bunch of dudes that knew what they were selling and had a wide variety of buds.
Now you get a female sales lady that will sell you anything, no knowledge, and all the buds are very similar, and they raised there prices. Cant compete with gennesee county compassion club!
And theyre clones have bugs, but they wont tell you that.
Great spot
Very friendly and knowledgeable. Great selection
Hemphill Wellness Center
I love this place, even though I drive 100 miles because my County is the home of the Dds (Dead Dick Society) they vote dry but are drinking wet.
great place great people
great product love the people will definitely recommend to people
bomb diggity
1 personthought this review was helpful!
This place is very professional. The staff is super nice and knowledgable. I often drive from metro detroit for their medicine. I love how they actually test their products, It shows they really care about the patients. Thanks guys
great place great Meds awesome people
great place to go. great people. would recommend to anyone
great place great Meds awesome people
great place to go. great people. would recommend to anyone
great place great Meds awesome people
great place to go. great people. would recommend to anyone