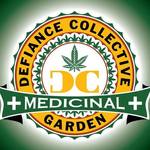 FEATURED
Defiance Collective
Medical Dispensaries / North Tacoma   (39,339 hits)
Reviews
first time patient
a truly wonderful place, clean and professional right when you walk in. great selection of yummy strains. great deals. will have to return the staff is down to earth and has experience the high grade
-Richard
As always..
Thanks for the great product. Both the amherst diesel shatter and pear herer clear taste wonderful and both are super smooth! No complaints here..
NEVER WANNA LEAVE
1 personthought this review was helpful!
Once you walk through the door, you can hear the best music playlist. There's a nice comfy couch and magazines to read. Then you are let into the back room. I'm so glad they kept their counter. It was my favorite part of their old location. Good luck trying to decide what you want. I could spend all day looking at their selection. I've been to my fair share of shops and Canapa has the most and best quality types of products. Jessie is always there to give me her reccomendations. She hasn't showed me anything I haven't liked yet. Jessie is literally the most personable person I've ever met. She is intelligent and knows what I like. I feel like she really puts the effort into getting to know her patients and making them feel welcome, comfortable and special. I always spend at least 15 minutes in there because she knows how to carry a conversation. The hardest part is saying goodbye. I'm excited to try my new products but I would just love to sit on the couch, jam to the music and hang out with all the people that radiate such positive vibes. I can't wait til they get some more Amherst Sour D! It's my favorite strain of all time for a couple years now. Follow Canapa on instagram and you will know when you can get some!
Save the trouble, try The Join
This was my main place. But then I realized that whoever buys/grows the weed doesn't really know what well-cured weed is like. Also, some of the people that work there are so nice. But there was one time where the girl helping me was told to hurry because there were other patients waiting. I was literally in there for like 3 minutes, and this woman comes back complaining about how the girl working is taking too long. Actually, no, I was making a decision while I spend my money at your business. Jerk. Don't be rude to your employees. Really turned me away from this place.
Official Dispensary Response
You know usually we don't respond to reviews one way or the other as we don't give away anything nor encourage reviews. But we do have to point out your only two reviews are bad ones for successful access points closest to the location you are directing people towards. I guess that means we made it finally?
Blackberry Cookies
Just marvelous. Awesome taste. Great Body high, removing all pain and providing pure pleasure. Thanks again and thanks last week for the free eighth of MASTER KUSH. I usually don't rock out with my cock out but yeah feeling awesome. lol!!!
Dankerific Oils
This shop just has the most interesting house oils of anywhere I have tried and they somehow keep getting better. The pricing makes them a real value and the overall flavor profile is always much more complex than the big batch brands. Kind of like having the chef make your meals one at a time, the small batch products just have a more engaging impact. The effects are consistently above average and service is always at the top of the class with a comfortable balance of friendly and professional. My favorite shop by a good margin
All aboard the Canapa Express
This is one of my top favorite places. The selection, prices and your kindness with your customer service - it's all noted and appreciated. Every person I've met in this Collective has been more than knowledgeable with strains and Cannabis properties. They legitimately have a book full they teach to their members to make sure that they can properly help the patients.
potent meds
High quality top shelf meds.worth the extra$.
Good place to go.
Excellent selection of whatever you need. Bud tenders are knowledgable and friendly. Would recommend for anyone to check it out.
Awesome place.
They have the best house shatter I have ever had. Jennie is the shit. She knows her stuff and really knows how to match you with something you want.