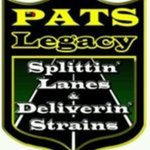 FEATURED
Reviews
these guys are the best one stop shop!
1 personthought this review was helpful!
this is truly the one stop shop. always have the best meds. I'm a cancer patient so I can appreciate the extra mile. my license was expired and I was on my way home from chemo at the hospital and not only did they meet at my house they also had a doctor call me and renew my license too so by the time I got home they were there waiting for me. I was scared I wouldn't have my meds but these guys came through like one of my friends or family members would so thanks guys I am forever a customer!! thanks again guys I'll be hitting you up for a refill!! chemo tonight!! Scotty G
Quality product and customer service!!!!
(JG!!!!!!!!!!) Being a married man with two kids, discretion and customer service is a must when it comes to me and my medicine. Josh from Pat's Legacy is one of the most stand-up guys I've ever met. His hospitality and customer service is through the roof. I've been making donations to Pat's Legacy for around 6 months now and I have no desire to ever buy from another dispensary as long as Josh is working there. Thank you guys so much for your helping hand and reaching out to patients in the matter that you conduct business.
Amazing staff
Just wanna say I appreciate the courteous staff and professionalism . Robert told me the specials and how to stay current . Knowledgable about the medicine even cbd stuff
Great experience everytime
This is the most personable delivery clinic I have ever ordered from . I am a repeat customer for a couple of years now . They have a wide range of medicine , from Liquid Gold brand concentrates and edibles to flowers this club is consistently getting new things . The best part is the professional service . You are greeted by name from the moment you call and their drivers reflect the same courtesy . Great dispensary !
BLU BERRY WAX 3 GRAMS for $90
1 personthought this review was helpful!
Almost translucent this beautiful orangish/yellow crumble/brown sugar style wax is spectacular. It's Similar to moist sand. The smell is fruity, peppery and clean. A delicious smell that translates well to taste when dabbed. Blueberry is an extremely potent INDICA strain. Most people know blueberry from the strain blue dream which is a sativa dominant strain. This is totally different, it's a body high with a touch of head high. It's really an Indica lovers dream come true. Enjoy BluBerry from Pats Legacy and you will see exactly what i mean.
- Dr. Crumbles
FB/drcrumbles
@dabithabit
Wifi Wax - #949 Extracts - Cannabis Cup Winner
1 personthought this review was helpful!
Wax: Wi-Fi O.G.
Lineage: (The White X Fire O.G.)
Extraction Company: #949 Extracts
As I began a dab session of Wi-Fi, the sweet, minty aroma sweetens my pallet. This latest arrival from Pat's Legacy certainly does not disappoint in terms of texture, taste, and appearance. Its yellowish orange color reminds me of fall in Vermont, and compliments the mellow vibes that follow immediately after the dab releases its potency.
Made from quite possibly two of the best strains; "the white" and "Fire O.G.", the characteristics of Wi-Fi reflect the spectacular form of the original product. Typically, "the white" resembles cotton balls and/or golf balls. It's beyond frosty and white, the plant near harvest almost appears fake because it's so thick with white frost it's frankly beyond beautiful. In my opinion, It's more of a daytime indica. It's a social indica and one that wont burn you out too early! As for Fire OG, it falls in the category of my Top 5 Favorite Buds ever, due to its super delicious smoky flavor and intense body high. You know when fire og is near, the smell is a dead giveaway . So are the effects once consumed.
The dabs are amazing/ one reason is because the smell and taste translates well from the container to the actual dab. Smooth too, barely a cough, I am left feeling relaxed, with an urge to be creative. Wi-Fi is also known to help with depression, cancer, glaucoma, pain, and appetite loss. Works great on back pain too,
Dr Crumbles
Official Delivery Response
We are ecstatic to be on "Wifi" with you! Know that here at Pats Legacy we will always strive for the BEST for our Patients.
King Louie O.G. #949 Extracts
1 personthought this review was helpful!
King Louie O.G. Wax
Even before pulling back the parchment paper to reveal this clear, contaminant free and amazing wax, I could smell the powerful fragrance of O.G. kush. You can tell just by appearance that this wax is nothing but terpenes and active ingredients, which is what true medicine is all about. Once again Pat's Legacy put out a product that's clean, efficient and flavorful.
The best MMJ meds use a synergy of aromatics, potency, and cleanliness to heal the human mind and body. If you hold this particular wax up to the light, you can see that it's translucency and beautiful amber color. It's easy for the wax to hold up to the light because it's 100% stable, meaning it's not sticky or runny. King Louie can best be compared to a fruit roll up in consistency and carries a refreshing aftertaste leaving you craving more. It's malleable yet dry and doesn't stick to everything, can easily be dabbed, placed on top of bowls, smeared on joints or taken orally. While not for the faint of heart or for someone looking for cheap wax, King Louie is intended more for connoisseurs and seriously ill patients trying to find relief from their pain.
At Dabit Habit, we do all our medicating and testing on a dome-less nail, and only work with new and sterilized glass utensils. Our mission is to provide the most precise and accurate feedback to our clients, and direct them to the highest quality dabs in their neighborhood. Pat's Legacy has our FULL 100% endorsement, for as you can see, the quality of King Louie is representative of the high standards we aim to reach at Dabit Habit.
Dr. Crumbles
Crumbles@dabithabit
Fb: dabithabit
Best Delivery Service in the OC
I recently began using Pat's Legacy and have been extremely satisfied. They are professional, timely, and always have excellent product. I've been very impressed with the quality and selection. They take care of their customers and are always having deals throughout the week. Thank you Pat's Legacy!!
best medication out there and best staff very professional and they have everything ur looking for
Pat's Legacy Delivery
1 personthought this review was helpful!
I have been using Pat's Legacy delivery for just a couple of months now and have been very pleased. They usually have around 30 different flower choices along with edibles, concentrates, topicals and vape cartridges. I have only used vape cartridges and flower so far as I don't do edibles much, but the bud I get is top shelf. Regular prices are going rate, but they have specials every day on a multitude of different items from flower, edibles, vapes etc, so no matter what you want, it will usually be on special within a couple of days. I like ordering online and at Pat's, they process quickly. You get a call usually within a few minutes of placing your order to give you a ETA of the driver, who the driver is etc. Shortly before delivery the driver will call you with a closer ETA at which time you can give him any special directions, parking or gate codes. They have always come within the initial estimate. They have a large selection with them in case you want to peruse other items. All the drivers I have had, have been courteous, friendly and discreet. Your neighbors don't need to know your business so discretion is important. I plan on continuing to use Pat's as it is convenient, good selection and easy. Thanks to all at Pat's.