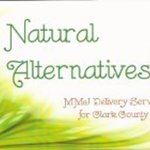 FEATURED
Natural Alternatives - Serving Clark County
Medical Deliveries / Vancouver Washington   (301,730 hits)
Reviews
Epileptic Son doing so much better!
1 personthought this review was helpful!
My son has severe uncontrolled epilepsey. He used to have hundreds of seizures each day. He was taking 24 pills of an anti-seizure medicine with still no control of his seizures. We have had some very scary days..several grandmals,,ambulance rides as he stopped breathing...seizures lasting more then 5 minutes..we were terrified.
We decided to look into Medical Weed for help. I cannot even to begin to explain what a difference this discovery has made for our son!!! He takes the CBD capsules and the cookies. He is doing so much better!!! He is not having hundreds of seizures anymore. He is not anxious anymore. He is happy again.
We just had an appointment with his neurologist and now because he is doing so much better, he is only having to take 8 pills a day of his anti seizure medicine!!! We are Thrilled to see him feeling better!!!!
The delivery drivers are very nice. Ellie, Kevin, Eric and Michael thank you so much! Natural Alternatives is the only place I ever want to go to. They are on time, professional, and very helpful! We are so thankful that we found NA.
Amazing help!
4 peoplethought this review was helpful!
First place I called when I got my medical card, Elle came out and was sooooo professional, and had so much of their stock at hand. She answered all my questions and showed me things I was not familiar with. She is a great resource to their business. Sweet lady! Great product...took my pain away. Thank you Elle and Natural Alternatives your great.
cinex and sweet tangerine
4 peoplethought this review was helpful!
love this when its on the menu, and kudos to Eric the driver for telling me to play Resistor on the ps4, everything he said about it was correct, no doubts evers in ordering from NA again
The CLEAR is here!
5 peoplethought this review was helpful!
The vape pen cartridges are the strongest I've ever tried! This is real medicine! I've tried the Blackberry, Strawberry Cough and Tangerine Dream, and they all get ten stars!
As always, my thanks to all the drivers! I really appreciate the kindness, punctuality, knowledge and recommendations.
Very Satisfied Customer
5 peoplethought this review was helpful!
sometimes i don't say it enough, everyone there is so helpful and courteous, Eric, Kevin, Michael (phone) and Ellie
i am very appreciative to have NA as my delivery service
thank you
Eric
First timer who is very happy.
5 peoplethought this review was helpful!
wanted to leave a review for today I am really happy with the care I got and the quiality of the stuff you have. i got a vape pen and it works great! I also tried the Rice krispy streats and havent tried the brownie i got yet but will tomorrow. i really enjoyed talking to my delivery person kevin. he is so really nice! he knew what he was talking about and helped me narrow down what to try for my pain. i really like the treats and I got some of the knock out indica for my pain and wow it is really great stuff. Thank you Kevin for the good advice and the first order freebie I am really happy with all of this and i really will stay with you guys to help me! THANKS
Sweet!
5 peoplethought this review was helpful!
Sweet Tangerine is back and better than ever. It has a little less citrus taste and packs a bigger punch. Excellent product.
I agree! "Cape Pens" are really Awesome!! ;P
3 peoplethought this review was helpful!
I agree with the last reviewers commentsssssss..... hahahah! It must be REALLY good stuff or you just have a quick trigger finger!
The Vape pens are the answer to my dilemma. How do I go somewhere and smoke without causing commotion. The pens don't smell like weed! and everyone has one so you could actually be smoking...let's say....an E-cig??? and no one knows the difference! They smell and taste like wonderful fruit flavors! Yummy! :) Thanks for adding them to the menu. I was considering one and didn't like the price-but I could afford this one-so Thank you very much!!!!!
Tay
Continued.........
5 peoplethought this review was helpful!
Fingers got in the way........as I was saying in my previous review. Didn't think I would ever be interested in a vapor pen, but after talking to my driver decided to give it a try. Glad I did! Now my little buddy goes with me everywhere! Try one. Just sayin...
This is the place to call!
5 peoplethought this review was helpful!
Been with natural alternatives for a while now and never disappointed. I've been an old school smoker for 30 plus years, so bong or pipe it is. So when I was shown the vape pen they carry, I wasnt