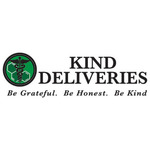 FEATURED
Reviews
Friendly, professional educators
1 personthought this review was helpful!
I relied upon the expertise of the Kind Deliveries team to guide me to the best products to use to treat my PTSD and debilitating anxiety after an unfortunate bout with ill-prescribed mental health pharmaceuticals. I'd previously considered weed to be recreational, and hadn't had it in my environment since college (I'm now 46.) Kind deliveries recommended a combination of indica & sativa which I used daily as I'd once used pharma. I felt so much relief, I'd become reconciled to the idea that I might make regular use of it for the rest of my life & felt comfortable with that: I was far more productive using green cross than I'd been on mental health meds. The surprise after hearing I'd be on meds for the rest of my life was that in time, I didn't even need the grass. I simply stopped & felt no anxiety or withdrawal symptoms. I am no longer experiencing anxiety attacks, flashing lights or depression. Now a huge believer in green cross solutions, I'm working on a platform to connect what we know about holistic wellness (including nutrition, exercise, community, body work & plant medicines) to our systems of governance. To prescribe mild-altering chemicals without patient advocacy is the definition of insanity itself. I cannot thank the Kind Deliveries team enough for being a part of my wellness team: patient, knowledgeable, professional & caring.
Official Delivery Response
I know who wrote this review :) Thanks for the great review. Not so much just on us, but on this amazing plant! And what you want to do with your experiences and new found knowledge is incredible. It's been an amazing ride to watch so many of our patients slowly do away with mind numbing and body destroying pharmaceuticals in favor for MMJ. Then just watch as they get healthier and healthier physically, emotionally and mentally. Good luck bringing any reason, logic or compassion to our government. If you can do that you are truly a miracle worker. But seeing what you have overcome and how much you have already accomplished I believe you can make a difference. From everyone at Kind Deliveries we wish you continued good health and success with your new goals!
My First Trusted Place
Kind Deliveries has it all. Good quality meds, delivery people to die for: Gabby, John, Sean, Troy and Stephanie. Amanda and Stacy are the best on the phones always so helpful, caring, what you see is what you get...honest. Steve is their fearless leader. Read their front page. Thank you, Kind Deliveries.
Official Delivery Response
Awww, thanks for the kind words. And thanks for what I think is your second review :) There are a few things I am very proud about this company. Not the least is how we have put together a group of quality people who all work hard to make this company operate as well as it does. The only thing I will say is I'm not fearless, I'm filled with fears. We have been the subject of a ridiculous and unfounded criminal case once, it can happen again. If everyone knew the truth and had access to it, this industry would cost the pharmaceutical industry billions and billions of dollars. And being a part of a growing presence that is messing with the establishments money spigot is, well scary at times! But thru it all it has been worth it. I love this job and love so many of the interesting relationship we have had with patients like yourself. Just think back to the first communication you and I had lol. I know recently there was a discussion of the nicest members of the collective and your name was mentioned :) Thank again for the kind review!
Hard to beat this service
Great lab tested product, delivered to you when they say they'll be there. Nice drivers and friendly operators. All buds are delivered with Boveda humidity packs to keep your product fresh. Great selection of edibles. Top notch service!
Official Delivery Response
Thanks for the kind words Grimreefer69. Lets us know who you are when you call in next so we can say thanks :) I love those humidipaks. I found a partial 1/8 I had stashed several months ago the other day and I think it may of been a little better than when I had last smoked it! Those things are awesome :)
1st time was fantastic
When OCPC closed on short notice i called Kind and set up a delivery. The phone call and info was easy over the phone. ( have your original recommendation and DL ready)
They worked with the time frame of me being back to the house and was exactly on time to a new address. The delivery tech was very professional and reviewed the paperwork scanned in the originals. Explained the club paperwork for a first time patient then delivered the medicine in a container with a humidistat pac to keep the freshness during storage.
Great job folks.
Official Delivery Response
Thanks Rwh for the kind words. Sorry it took so long to respond here. I love to hear that everyone you dealt with was great. And that you appreciate the humidipaks we include, I love those things myself. Please let us know who you are next time you call so we can say thanks for the awesome review :)
Excellent Experience
Great service! I just tried Kind Deliveries for the first time and I am impressed. The menu was clear, the reviews by the owner on the website were helpful and the dispatcher seemed knowledgable and helpful. The driver arrived quickly and she was professional and friendly. Had a nice conversation while filling out the forms then paid with my debit card! How nice is that? The medicine seems to be top shelf, huge neatly trimmed buds that are packaged with humidity control pads! I've never seen that before and it is a nice touch. I really couldn't be more impressed.
Official Delivery Response
Thank you so much for the kind words John. I love these sorts of reviews and it validates all the hard work we put in! I also know the driver and dispatcher that day both said you were wonderful to deal with as well :-). Glad you find the reviews helpful. We just added 3 new strains and only 2 have a review up....guess it's time for me to get to work!
Best customer service
1 personthought this review was helpful!
Of all the deliveries, I've come across the best company. Super friendly drivers and awesome service. Great quality.
Troy and Stacey are wonderful.
Official Delivery Response
Thank you for the kind review Headspawn. Of course we always strive to have a quality menu. But I especially appreciate the compliments for or employees. We have worked hard to form an educated and kind staff :)
Kind Deliveries, is Kind
1 personthought this review was helpful!
Any one considering Kind Deliveries as a delivery service to fill their prescriptions, are going to find that this company has worked out the kinks one could say, for this industry especially. Not only are the delivery personnel knowledgable and friendly, but it's always a nice visit, like friends. Their product is always fresh, and their service from point of order to delivery is always there around the time they say it will be....I have been a patient with Kind Deliveries for more than a year now.....MT...Laguna Hills,CA.
Official Delivery Response
Hey there Marcae, thanks so much for the kind words! It's been a pleasure dealing with you as well :) And we just looked, you have been with us over two years now! Crazy how fast time goes by sometimes lol. Hope all is well and we'll see ya soon, thanks again :)
Trust
I like Kind Deliveries because all of the delivery people truly care about their patients and I can rely on them to be upfront about whatever it is. Their Durban Poison is excellent and helps my inattentive ADD. I also like the fact that you can try different strains of the Pop Naturals by buying .5 of a gram. Another aspect of Kind that I like is that Steve reviews the different strains and I know what to expect. And there pre-rolls are the best.
Official Delivery Response
Thank you Jamielu for the kind words. I'm glad you appreciate my reviews :) It's hard to keep on with them, but I do try! We have a couple Jamies in the collective, perhaps this is one of them? Please let us know who you are next time you call so we can say thanks for the review! Oh and I have quite a few .5g oils that aren't on the menu. Just no room at the moment. Im thinking of putting some sort of asst sampler pack on the menu. But whether we do or not, we can offer you a much bigger selection than what is on menu if you order a day ahead of time. Probably a couple dozen different ones. They are just at a different location since they aren't on menu. Place an order the day before and we can really offer a huge variety right now. Ill just grab them from the alternate location the night before and we can get them delivered the next day :) Edit:I have 30 off menu .5g syringes currently available! Anyone who wants to do a day early order is welcome too. Just call for available strains.
Fast service, excellent quality!
Delivery was very fast and they offer a wide range of products. I was not disappointed
Official Delivery Response
Thank you for the kind words Herbivore. Great name for a wm acct. Please let us know who this is when you call next so we can say thanks!
Great service and reliability, a few suggestions..
1 personthought this review was helpful!
I have been with Kind Deliveries for many months now, and I have decided to write a review to let you guys know how impressed I am with your service! I am especially grateful for the fact that you guys also accept credit and debit cards, because I hate having to run to the ATM before a pickup, and I love the stamp card system you offer (I am on my 5th card now I believe..). I am also impressed with the care given to responding to all of these reviews. It is good to know that our voices are heard and that you guys are taking action to make sure we are best taken care of. That said, I do have a few issues I'd like to bring up, and I am confident that you guys could address these issues and truly be a flawless service in my mind.
One of the reasons I love Kind Deliveries is that you lab test most of your product, and you update frequently with new lab tests (I am especially excited to try the new Yummy, 28.3% THC - Wow!) . However, I also like to frequently enjoy wax concentrates, and I feel that this part of your menu could really benefit from the same care taken in your herb menu. I noticed that on weed maps, there doesn't even appear to be a wax section (there is however one on kinddeliveries(dot)org).
I typically pick up the "Grand Daddy Purps" honeycomb, as it is the most potent of the lab tested waxes on your menu and im a fan of the strain, and typically the quality matches up - but this pickup I noticed my GDP looked/smelled somewhat different (lighter in color and smelled more like pine than normal), and didn't come in the same pink or white container it usually comes in. The wax still looks of high quality, but as someone who likes to pay a great attention of detail to their medicine, it is dismaying to not know much about the product that has been given to me, as the lab test for this product is dated to 12/31/2013, and the photo featured at "kinddeliveries(dot)org/gdp-honeycomb" looked very different from the product I received.
I understand that since you deal with many small growers you get small batches of flowers or trim to make your concentrates. Some batches may yield as few as 3 or 4 grams, I understand - and It takes 1 gram to do the test. However, in these instances, it would be great if we could still get a new picture of the product and an accurate description of what kind of wax it is (crumble, shatter, etc) as I have ordered crumbles in the past that showed up as nothing of the sort, it was a thick, very sticky pile of gooey wax. Though, I suspect it may have started as a crumble then melted in the drivers car - as it was a hot day and I ordered later in the day (if this is the case - temperature control for the wax would be nice). And if there is any spare product for testing, a review would be wonderful!
Most of my other gripes are also menu related (price discrepancies, one site lists prerolls at 5, another at 6, etc) - totally understandable as this can be time consuming to up keep, but I would like to think the extra effort would be well worth it. :)
I plan on staying with Kind deliveries for the foreseeable future, and I look forward to reading your response! Thank you!
Official Delivery Response
Holy cow dxfuzion! That's a lot of question lol. Let me try to answer those one by one. First off thanks for the kinds words. We always appreciate well thought out reviews and I'm always happy to respond.
We removed our waxes from all of our weedmaps pages a while ago. For a bit there was some federal activity where they were specifically trying to go after clubs with BHO concentrates. The rumor (which I believe to be true) was some clubs were targeted solely because they were found on weedmaps (yes the feds know of this site lol) and then targeted them for investigation, intimidation or a flat out raid. Back then we considered not having concentrates on any sort (other than bubble hash) on the menu. But we decided to just put them on our site. This is a topic we actually discussed at our last board meeting and we are going to add them back to weedmaps soon. This decision is largely based on the fact that in the case where we were being charged with distribution and cultivation (which we won) of a schedule one narcarcotic the patient in question specifically had gotten wax. And I now have documentation specifically from a Judge saying we are following the guidelines of the law so we feel a little more comfortable getting those items back on weedmaps. I expect this to happen over the next couple of weeks. Probably as new test results trickle in.
We test almost everything on our menu. Test results are only "good" to post on weedmaps for 30 days. If an item is going to be on our menu for a long time, like the strain Yummy for example, we will test it every month and continually update new results. If we are low on something when the test results "expire" we won't pay to have them tested again. Seems like a poor use of funds. Waxes are more consistent per batch and more stable. We never retest a wax from the same batch any more. That's why some have older test results. They always test consistent if they came from the same batch.
As far as more attention paid to the the wax section, such as reviews....I have been looking for someone to write reviews for a long time. I don't usually smoke concentrates and it's hard enough to keep up with flowers lol! None of the other employees seem to have the inclination to write. If you would like to try your hand at writing a concentrate review I would be more than happy to see a submission. You can email me directly at Steve@kinddelivieries.org. I would love to be able to post more info on that sort of stuff.
The price difference on the reg prerolls. At our last board meeting we decided to lower the suggested donation points of several items over the next month. However as soon as we decided that one of the two people who edit our site went on vacation and the other got sick. So I changed the weedmaps price from 6 to 5 and had to wait till today to get our page updated. Which it is now :) And over the next month we will be changing several of our strains and concentrates in price...all lower :) This is in large part due to our expensive legal battle being over!
Specific questions about the GDP wax. The GDP and Snow honeycomb on our menu is made from the small buds and sugar leaf of the same flower strains that appear on our menu. These two strains have been the best and most consistent concentrates we have had on the menu since we started IMO. The producer has been experimenting with things like making the wax sooner after harvest, drying the flower out a little more before extraction, changing temperatures and time purging. These have been resulting in slight variances in color, taste and smell. Getting better in my opinion for the most part :) The next batch that will come on the menu is slightly darker again but I think the smell is closer to what the one you just got is. The many times we have had it tested the levels have been very consistent. All between 80% and 85%. Because of the cost involved and the consistency of the test results I haven't tested every batch of his because of how small each run has been and how consistent. That being said I wanted to test that batch but we had a cold go thru the collective this week and there was no one available to get to the lab. We will get the new batched tested again though next week and get a new pic up. Oh and on the container....we usually package all the wax ourselves. If something has the a slight bit of wetness/stickiness we use the much more expensive silicone containers since wax wont stick to it. These containers cost about 6 times more than the plastic ones and are harder to label. So we only use them when they provide an advantage. Completely dry concentrates we put in the plastic ones. Honeycombs and crumbles can vary a bit from batch to batch in texture. Even things like the humidity on the day of production can effect this slightly. That is why some of them that are all made the same from the same producers can vary a bit and we decide from batch to batch which container to use.
I hope that answers all your questions. Some other things to look forward too over the next month besides the price decreases....Our first inhouse grow is about 2 weeks from harvest and it looks AMAZING. We have a new wax producer we are currently scrutinizing. We are VERY picky with concentrate producers. Only going with people we have gotten to know personally as well as their extraction process and whose products have tested great and tested clean for residual solvents. The whole process takes a while but so far everything is looking awesome with our new friend and hopefully we will have his products on menu soon.
Let us know who this is next time you call so we can say thanks for the review :)