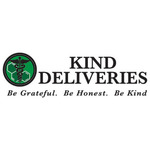 FEATURED
Reviews
First timer
Loved their service and the quality was spectacular. Delivery time was quick and driver was very professional. Definetly using again!
My Home Group
I have known the people at Kind Delivery for over a year and I cannot say enough about the quality of their group. Whatever I get from them is always as presented. The fact that they put humidifiers in all of their containers tells me they care about quality. They are not like some I have encountered barkers at a carnival they are legit. I love them and measure all others by them. You cannot go wrong.
Kindest People!
1 personthought this review was helpful!
Love these guys, never been disappointed and they also have a great award system. Definitely one of the best in AV.
Took my delivery virginity, they were gentle
I was very reluctant to use a delivery service for some reason. I've had my recommendation for several years but I've always relied on brick and mortar. I think I felt like it was too much of a hassle and I wasn't really sure what to expect. Lately, I've been really dissatisfied with many brick and mortar places, aside from having to drive usually 30-45 minutes I feel like the general quality has been going down. Not to mention most of the medicine has been making me feel kind of crappy. On a whim I decided to try Kind Deliveries. The phone was answered in 3 rings and I was escorted through the verification process. I was verified, ordered, and had someone on the way with questions answered in under 5 minutes and the person on the phone was very friendly. They gave me an estimated time of 8pm and at 8:02pm someone was knocking at the door. The deliverer was very professional and discrete. He came inside and we went over the paperwork and he played with my dog for a bit while we talked and that was that, he was here for probably less than 10 minutes. Overall a great experience and the kind of experience patients deserve. Also the medicine is great. I will be using them exclusively from now on.
Friendly, professional educators
1 personthought this review was helpful!
I relied upon the expertise of the Kind Deliveries team to guide me to the best products to use to treat my PTSD and debilitating anxiety after an unfortunate bout with ill-prescribed mental health pharmaceuticals. I'd previously considered weed to be recreational, and hadn't had it in my environment since college (I'm now 46.) Kind deliveries recommended a combination of indica & sativa which I used daily as I'd once used pharma. I felt so much relief, I'd become reconciled to the idea that I might make regular use of it for the rest of my life & felt comfortable with that: I was far more productive using green cross than I'd been on mental health meds. The surprise after hearing I'd be on meds for the rest of my life was that in time, I didn't even need the grass. I simply stopped & felt no anxiety or withdrawal symptoms. I am no longer experiencing anxiety attacks, flashing lights or depression. Now a huge believer in green cross solutions, I'm working on a platform to connect what we know about holistic wellness (including nutrition, exercise, community, body work & plant medicines) to our systems of governance. To prescribe mild-altering chemicals without patient advocacy is the definition of insanity itself. I cannot thank the Kind Deliveries team enough for being a part of my wellness team: patient, knowledgeable, professional & caring.
Official Delivery Response
I know who wrote this review :) Thanks for the great review. Not so much just on us, but on this amazing plant! And what you want to do with your experiences and new found knowledge is incredible. It's been an amazing ride to watch so many of our patients slowly do away with mind numbing and body destroying pharmaceuticals in favor for MMJ. Then just watch as they get healthier and healthier physically, emotionally and mentally. Good luck bringing any reason, logic or compassion to our government. If you can do that you are truly a miracle worker. But seeing what you have overcome and how much you have already accomplished I believe you can make a difference. From everyone at Kind Deliveries we wish you continued good health and success with your new goals!
My First Trusted Place
Kind Deliveries has it all. Good quality meds, delivery people to die for: Gabby, John, Sean, Troy and Stephanie. Amanda and Stacy are the best on the phones always so helpful, caring, what you see is what you get...honest. Steve is their fearless leader. Read their front page. Thank you, Kind Deliveries.
Official Delivery Response
Awww, thanks for the kind words. And thanks for what I think is your second review :) There are a few things I am very proud about this company. Not the least is how we have put together a group of quality people who all work hard to make this company operate as well as it does. The only thing I will say is I'm not fearless, I'm filled with fears. We have been the subject of a ridiculous and unfounded criminal case once, it can happen again. If everyone knew the truth and had access to it, this industry would cost the pharmaceutical industry billions and billions of dollars. And being a part of a growing presence that is messing with the establishments money spigot is, well scary at times! But thru it all it has been worth it. I love this job and love so many of the interesting relationship we have had with patients like yourself. Just think back to the first communication you and I had lol. I know recently there was a discussion of the nicest members of the collective and your name was mentioned :) Thank again for the kind review!
Hard to beat this service
Great lab tested product, delivered to you when they say they'll be there. Nice drivers and friendly operators. All buds are delivered with Boveda humidity packs to keep your product fresh. Great selection of edibles. Top notch service!
Official Delivery Response
Thanks for the kind words Grimreefer69. Lets us know who you are when you call in next so we can say thanks :) I love those humidipaks. I found a partial 1/8 I had stashed several months ago the other day and I think it may of been a little better than when I had last smoked it! Those things are awesome :)
1st time was fantastic
When OCPC closed on short notice i called Kind and set up a delivery. The phone call and info was easy over the phone. ( have your original recommendation and DL ready)
They worked with the time frame of me being back to the house and was exactly on time to a new address. The delivery tech was very professional and reviewed the paperwork scanned in the originals. Explained the club paperwork for a first time patient then delivered the medicine in a container with a humidistat pac to keep the freshness during storage.
Great job folks.
Official Delivery Response
Thanks Rwh for the kind words. Sorry it took so long to respond here. I love to hear that everyone you dealt with was great. And that you appreciate the humidipaks we include, I love those things myself. Please let us know who you are next time you call so we can say thanks for the awesome review :)
Excellent Experience
Great service! I just tried Kind Deliveries for the first time and I am impressed. The menu was clear, the reviews by the owner on the website were helpful and the dispatcher seemed knowledgable and helpful. The driver arrived quickly and she was professional and friendly. Had a nice conversation while filling out the forms then paid with my debit card! How nice is that? The medicine seems to be top shelf, huge neatly trimmed buds that are packaged with humidity control pads! I've never seen that before and it is a nice touch. I really couldn't be more impressed.
Official Delivery Response
Thank you so much for the kind words John. I love these sorts of reviews and it validates all the hard work we put in! I also know the driver and dispatcher that day both said you were wonderful to deal with as well :-). Glad you find the reviews helpful. We just added 3 new strains and only 2 have a review up....guess it's time for me to get to work!
Best customer service
1 personthought this review was helpful!
Of all the deliveries, I've come across the best company. Super friendly drivers and awesome service. Great quality.
Troy and Stacey are wonderful.
Official Delivery Response
Thank you for the kind review Headspawn. Of course we always strive to have a quality menu. But I especially appreciate the compliments for or employees. We have worked hard to form an educated and kind staff :)