This product is currently unavailable in your area.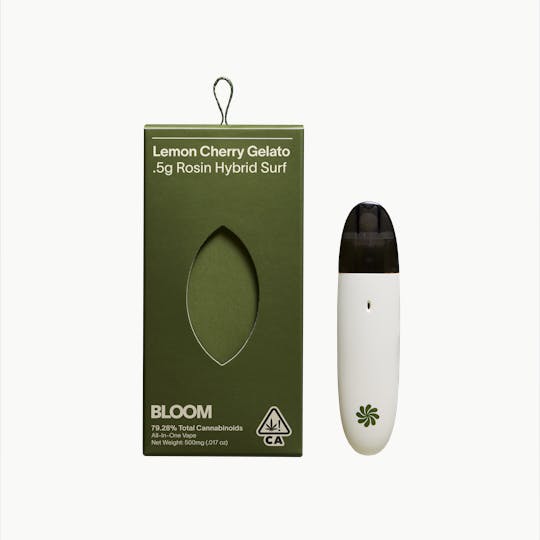 Bloom Live Rosin Surf All-In-One 500mg | Lemon Cherry Gelato
---
Lemon Cherry Gelato
Live Rosin
Lemon Cherry Gelato is a delicious and potent hybrid strain created by crossing two popular strains, Sunset Sherbet and Girl Scout Cookies. This strain is known for its initial cerebral and euphoric effects, which are quickly followed by waves of full-body relaxation, great for reducing stress and anxiety making room for contentment and pure bliss. The aroma is a delightful blend of lime, berries, and citrus, which gives way to a sweet and fruity flavor profile. The taste is reminiscent of lemon and sweet fruit, leaving an overall pleasant aftertaste.
Phenotype
Hybrid
Cross
Notes
Bloom Surf is the most advanced disposable vape on the market. Meticulously designed to preserve the rich terpene profiles in our oil, Bloom Surf is built with ceramic heating elements that prevent overheating and triple-airflow for bigger hits and better flavor.
Made with a 190mAh battery that provides more capacity than needed, the Surf ensures your battery will last long enough to finish every drop of oil.
Available in .5g for Bloom Classic, Bloom Live and Live Rosin.
The ORIGINAL Cannabis Aficionados
As a group of passionate cannabis users and borderline weed-snobs, we simply wanted a better way to enjoy our favorite strains. So in 2014, we set out to create a vape that could capture all the best elements of smoking flower strains. That's how Bloom was born.
Think of us as your modern-day florist – we're here to help you find a flower for every occasion.
Shop BLOOM
---
Have a question?
We're here to help.