This product is currently unavailable in your area.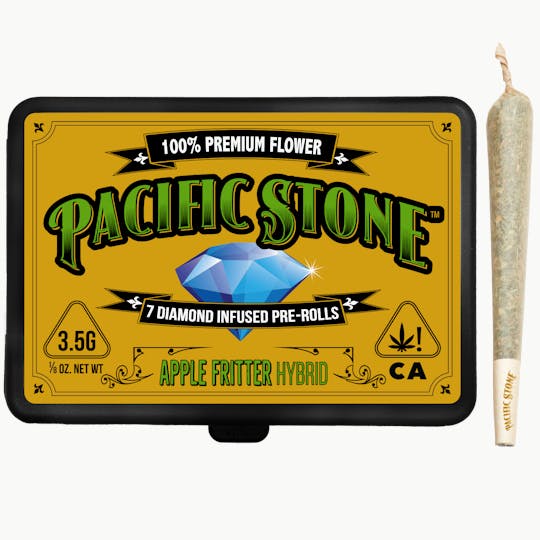 Pacific Stone | Apple Fritter Hybrid Infused Pre-Rolls 7pk (3.5g)
Users report feeling
relaxed
.
---
Apple Fritter is the perfect balance providing a powerful high without being out for the count. You'll feel relaxed and ready to take on anything with this tasty strain. True to its name it has an apple and butter finish, like a true pastry but in the form of frosty buds.
The Premium Pacific Stone Pre-Rolls you know and love in our top-selling signature strains, now, infused with highly potent THCa Diamonds extracted from our greenhouse flower. Each pack comes with 7 Diamond Infused Pre-Rolls perfect for igniting a pack with friends at any time of day. We only sell what our Pac Stone team grows and cures to bring you farm-direct California cannabis at an affordable price.
Flavors
Effects & flavors are reported by users on our site. This is for informational purposes only and not intended as medical advice. Please consult your physician before changing any medical treatment.

Pacific Stone
62,007 Favorites
Check out our website: www.pacificstonebrand.com
Founded in 2015, Pacific Stone is a labor of love established by friends and family from the 805 who are passionate about growing clean, consistent and affordable cannabis for California. Located in the central coast, we're cannabis cultivators and sixth-generation Dutch greenhouse growers working to bring you farm-direct cannabis at the best price, year-round!
Single Source. Family owned and operated. Greenhouse Cannabis. California's best-selling flower.
Shop Pacific Stone
Apple Fritter
Apple Fritter was created in the wine regions of Northern California where Lumpy's Flowers bred together Sour Apple and Animal Cookies to create one of the most potent strains on the market. According to Lumpy's Flowers the strain is primarily an indica. Like most potent strains, not much growing information is available on this strain.
Lumpy's claims that Apple Fritter tends to bring about feelings of euphoria, steadiness, and relaxation.
Apple Fritter won 2nd place for Hybrids at the 2016 High Times Northern California Cup.
---
Have a question?
We're here to help.