This product is currently unavailable in your area.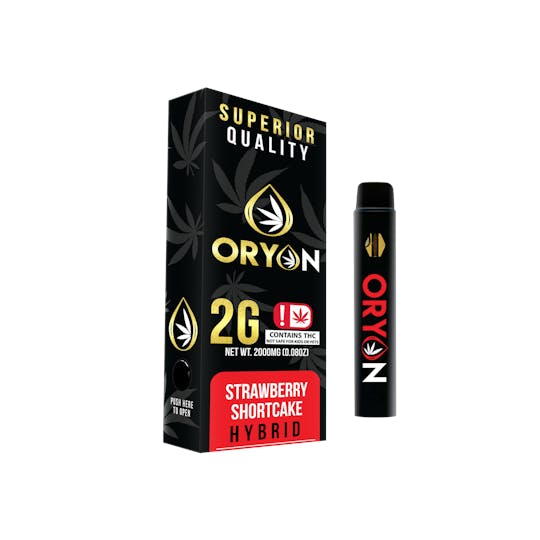 Strawberry Shortcake 2000mg
Users report feeling
relaxed
.
---
Our Strawberry Shortcake is an evenly balanced hybrid that is tailored to suit the needs of our patients. Crossing Juliet x Strawberry Diesel creates a superior experience that is both uplifting and relaxing.
Flavors
Effects & flavors are reported by users on our site. This is for informational purposes only and not intended as medical advice. Please consult your physician before changing any medical treatment.
Oryon Canna is a trusted and innovative cannabis brand founded in 2019 with the vision to provide high-quality, locally-sourced cannabis products to our community. We are committed to upholding the highest standards of quality, sustainability, and social responsibility. Our mission is to provide access to the highest quality cannabis products, while educating and empowering our community about the transformative power of cannabis. We aim to help Oklahomans achieve a superior state of mind by offering natural and sustainable alternatives to traditional medicine.
Shop Oryon Canna
Strawberry Shortcake
Not to be confused with the tasty dessert, the Dark Horse Genetics-bred Strawberry Shortcake is a cross of a J3 cut of their Juliet and Strawberry Diesel.
This potent combination gives Strawberry Shortcake an aromatic blend of fuel and strawberries, which translates into a flavor that the breeder describes as "bubble-gum scented Jolly Ranchers" and "old funky cotton candy."
Have a question?
We're here to help.