This product is currently unavailable in your area.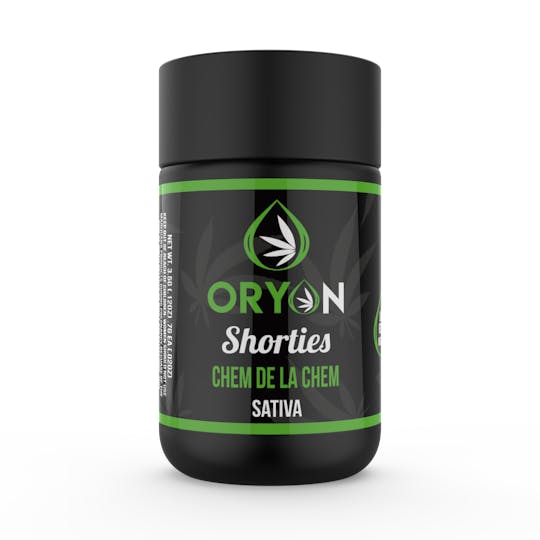 Shorties - Chem De La Chem
Users report feeling
uplifted
with this
high potency
product.
---
Our powerful cross between I-95 and Chemdawg, Chem de la Chem, is the cream of the crop. Speaking of cream, this strain is smooth and sweet with earthy notes that create an herbal dessert. As your productivity, focus and mood increases, so does the happiness of your tastebuds. Treat yourself to a puff on our uplifting Shortie! 
Flavors
Effects & flavors are reported by users on our site. This is for informational purposes only and not intended as medical advice. Please consult your physician before changing any medical treatment.
At Oryon Canna, our mission is to provide a Superior cannabis experience for all. Since its inception, Oryon has been a leading brand in the ever-growing Oklahoma market.  Presented in a clean and compact design, our disposable vape provides a smooth and satisfying draw each time.  The rechargeable battery allows for our customers to enjoy a consistent experience throughout the full 1-gram tank.  The distillate is hand mixed with all-natural terpenes, creating unique flavor profiles in our oil which is lab-tested to exceed industry standards and remain free of solvents and pesticides.
Experience superior quality from a superior device. We are Oryon Canna.
Shop Oryon Canna
Chem De La Chem
Grassroots Cannabis created Chem De La Chem as a combination of Chem Dog and I-95.
The top reported aromas of the Chem De La Chem strain are herbs, citrus, and pine. It is said to taste of earth, sweet fruit, and spices.
Have a question?
We're here to help.