This product is currently unavailable in your area.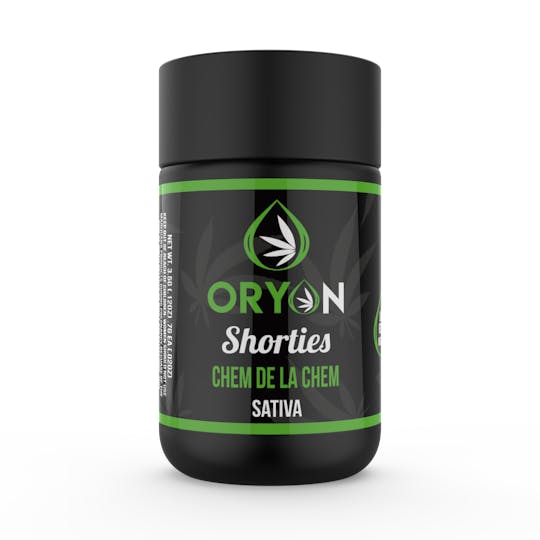 Shorties - Chem De La Chem
Users report feeling
uplifted
with this
high potency
product.
---
Our powerful cross between I-95 and Chemdawg, Chem de la Chem, is the cream of the crop. Speaking of cream, this strain is smooth and sweet with earthy notes that create an herbal dessert. As your productivity, focus and mood increases, so does the happiness of your tastebuds. Treat yourself to a puff on our uplifting Shortie! 
Flavors
Effects & flavors are reported by users on our site. This is for informational purposes only and not intended as medical advice. Please consult your physician before changing any medical treatment.
Oryon Canna is a trusted and innovative cannabis brand founded in 2019 with the vision to provide high-quality, locally-sourced cannabis products to our community. We are committed to upholding the highest standards of quality, sustainability, and social responsibility. Our mission is to provide access to the highest quality cannabis products, while educating and empowering our community about the transformative power of cannabis. We aim to help Oklahomans achieve a superior state of mind by offering natural and sustainable alternatives to traditional medicine.
Shop Oryon Canna
Chem De La Chem
Grassroots Cannabis created Chem De La Chem as a combination of Chem Dog and I-95.
The top reported aromas of the Chem De La Chem strain are herbs, citrus, and pine. It is said to taste of earth, sweet fruit, and spices.
Have a question?
We're here to help.