This product is currently unavailable in your area.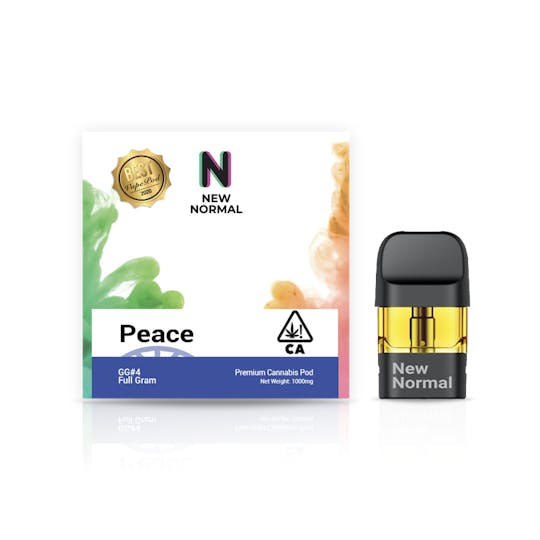 Peace 1g - Gorilla Glue #4 Pod
Users report feeling
relaxed
.
---
Slip into a deep state of Peace in its most potent form. GG #4 (Gorilla Glue #4) is a powerful hybrid strain that delivers a tingling cerebral euphoria and heavy full body relaxation. The perfect pod for those days off when you want to make best friends with your couch.
Flavors
Effects & flavors are reported by users on our site. This is for informational purposes only and not intended as medical advice. Please consult your physician before changing any medical treatment. New Normal
1,181 Favorites
To provide best-in-class products and the happiest cannabis experience to consumers anywhere, anytime.
New Normal takes NorCal tech and perfectly fuses it with the SoCal lifestyle. What you get, as a result, is a forward-thinking customer-first brand that produces high-potency products never before seen on the market.
New Normal's proprietary battery and pod system was developed over 18 months by more than 100 of the industry's top engineers. The sleek design offers you not only discreet but reliable and high-potency cannabis whenever and wherever you want. Each pod is crafted from naturally sourced oils, grown by trusted farmers. 
New Normal sets us apart from others and refuses to sacrifice our ideals for profits. The only thing higher than our standards is our customer satisfaction because at New Normal, our high potency, reliable, and discreet products provide The Highest% of Happiness.
www.newnormal420.com | service@newnormal420.com
Interested retailers, don't hesitate to contact us at +1 949-229-5798
Shop New Normal
New Glue
New Glue (formerly known as Gorilla Glue #5 or GG #5) is the latest in a long line of sticky strains from Las Vegas-based breeder GG Strains. The newest member of the clan is a cross of Original Glue (fka GG #4) and Sister Glue (fka GG #1).
The consensus on New Glue is that it smells and tastes quite harsh, with a spicy diesel aroma and similar sour, earthy taste.
Have a question?
We're here to help.