This product is currently unavailable in your area.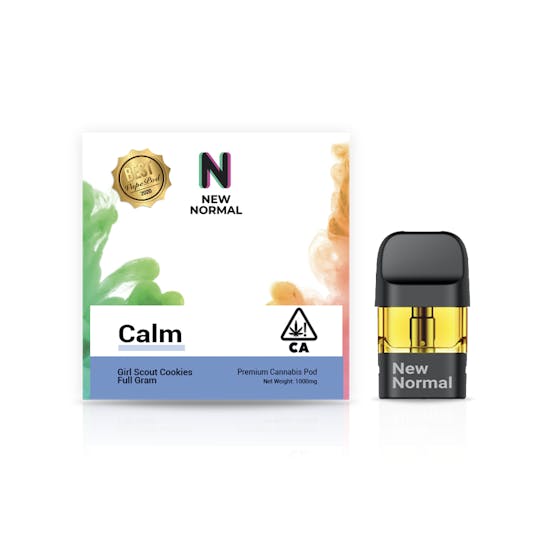 Calm 1g - Girl Scout Cookies Pod
Users report feeling
relaxed
.
---
Creating the ideal state of mind to combat pain and anxiety, Calm allows you to stay grounded no matter the occasion. A classic strain, Girl Scout Cookies, is utilized to sooth and alleviate any kind of stress life throws at you.
Flavors
Effects & flavors are reported by users on our site. This is for informational purposes only and not intended as medical advice. Please consult your physician before changing any medical treatment. New Normal
1,186 Favorites
To provide best-in-class products and the happiest cannabis experience to consumers anywhere, anytime.
New Normal takes NorCal tech and perfectly fuses it with the SoCal lifestyle. What you get, as a result, is a forward-thinking customer-first brand that produces high-potency products never before seen on the market.
New Normal's proprietary battery and pod system was developed over 18 months by more than 100 of the industry's top engineers. The sleek design offers you not only discreet but reliable and high-potency cannabis whenever and wherever you want. Each pod is crafted from naturally sourced oils, grown by trusted farmers. 
New Normal sets us apart from others and refuses to sacrifice our ideals for profits. The only thing higher than our standards is our customer satisfaction because at New Normal, our high potency, reliable, and discreet products provide The Highest% of Happiness.
www.newnormal420.com | service@newnormal420.com
Interested retailers, don't hesitate to contact us at +1 949-229-5798
Shop New Normal
GSC
GSC, which was originally known as the Girl Scout Cookies strain, was first bred by Northern California's Cookie Family sometime about 2012. A Sativa-leaning hybrid cross between a cutting of OG Kush and the breeder's own F1 Durban Poison strain, GSC produces a plant with multiple branches and a powerful flower.
The strain has a short stature that is common on strains with Indica lineage and is known for its tight internodal structure, which creates its iconic spear-shaped flowers with lavender calyxes. The most popular phenotype produced by the first batch of GSC seeds was Thin Mints.
GSC has taken home several High Times Cannabis Cup awards since it was first propagated — including a first-place trophy for Best Hybrid at the 2013 Southern California Cannabis Cup.
Have a question?
We're here to help.