This product is currently unavailable in your area.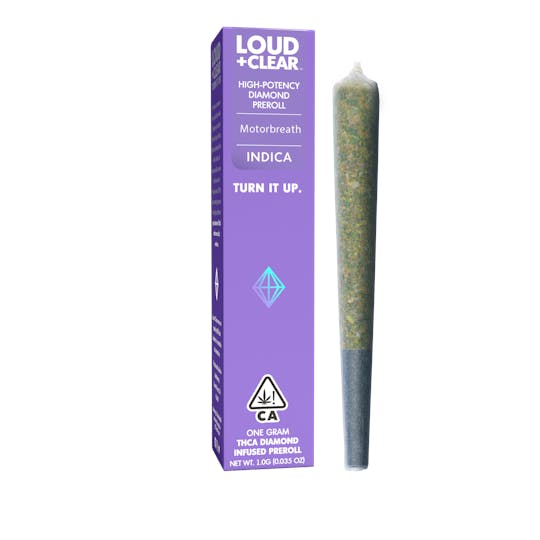 Motorbreath - Diamond Infused Preroll - Single (1g)
Users report feeling
relaxed
with this
high potency
product.
---
THCA Diamond Infused Prerolls. Handcrafted using THCA diamonds and terpene-rich, sungrown, whole cannabis flower. Available in a variety of strains with diverse terpene profiles and effects. Made with fresh THCA diamonds for a high-potency, balanced-flavor experience.
Motorbreath is a potent OG hybrid of SFV OG and Chemdawg with gasoline notes and tasty flavors of citrus and earth.
Flavors
Effects & flavors are reported by users on our site. This is for informational purposes only and not intended as medical advice. Please consult your physician before changing any medical treatment. Loud+Clear
1,235 Favorites
Looking to turn up your cannabis experience? With a baseline of 80% THC potency, Loud+Clear is the clear choice for cannabis lovers who want to pump up their vibes.
100% cannabis oil, made with a blend of high-THC distillate cannabis oil and strain-specific live resin so you get the highest high and the fullest flavor.
That's what we call a win/win.
Shop Loud+Clear
Motorbreath
Pisces Genetics combined the D version of legendary strain Chemdawg with the equally renowned San Fernando Valley OG (SFV OG) to create Motorbreath. It's a rare strain without much info except that it flowers in about 10 weeks and has a chemical, citrus flavor profile, according to online sources.
Have a question?
We're here to help.